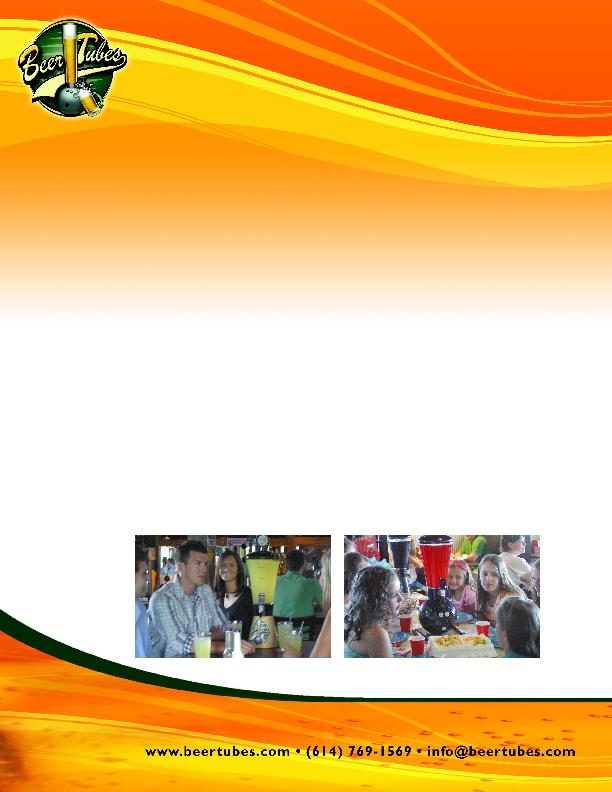 A Beer Tube is a beverage dispenser at heart, so while it is certainly great for ice-cold draft
beer, it can also be used for soft drinks, iced tea, mixed drinks, or any cold beverage you want
your guests to enjoy! The Beer Tube is the next generation of the traditional pitcher, with the
added benefit of a self-serve tap that allows guests to pour their own beverage while at the
table. The Beer Tube base is left on the table and then the wait staff brings the tube filled with
any beverage to the table and places it in the base for the group to enjoy.
In a variety of settings, Beer Tubes or Drink Tubes can be a great addition and promotional
opportunity for party menus. With soft drinks, Drink Tubes can be a profit builder and fun
addition to kid's birthday party menus. Kids love to pour their own drinks from the tap and
Drink Tubes are more efficient and harder to spill than traditional pitchers. For adults, if you
host bachelor or bachelorette parties as well as grown-up birthday parties; specialty drinks
in Drink Tubes or Beer Tubes with draft beer can be a focal point of the menu. Delivering
a Drink Tube or Beer Tube to a VIP section or table will make that group of guests feel and
look even more special to other guests.
These serving ideas will provide benefits to you with higher volume serving
opportunities and increased profits. As a reminder, many states, cities and counties
have a maximum amount (in ounces) you may serve each guest at one time. Be sure
to know and follow all local alcohol regulations regarding serving Beer Tubes. Beer Tubes
should be expected to fall under the same guidelines that exist in your local alcohol
regulations for pitcher service.
Beer Tubes on the Party Menu